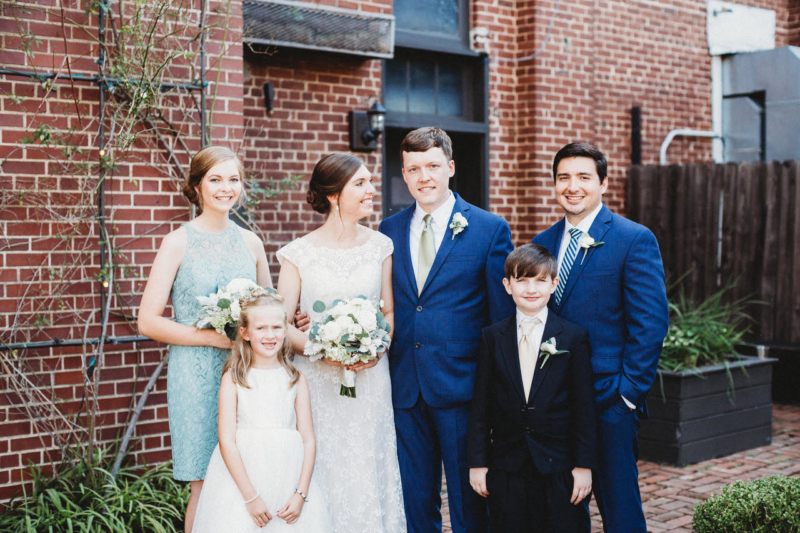 Featured Bride: Lindsey Self
Married June 17, 2017
Simple elegance is what comes to mind when describing the wedding of Lindsey Self and her groom, James Daniel Self, Jr. at Woodrow Hall in Birmingham, Al. Originally built in 1914 Woodrow Hall's exposed brick walls and large wooden beams is the perfect backdrop for a contemporary ceremony.
Lindsey's ivory and champagne sheath wedding dress from Arzelle's in Nashville, TN was a very fitting choice for the venue with its lace details. Her colors were sage, navy and copper. The exquisite bouquet was created by Dorothy McDaniels.
The groom waited in anticipation. The live music filled the room as Lindsey walked down the aisle to "Take the World" by Johnny Swim. The vows were sweet, heartfelt and personal.
Guests then enjoyed the reception catered by Woodrow Hall. Chicken and rice, shrimp and grits and vegetables were on the menu. The wedding cake was intentionally simple with white tiers and textured icing- another understated yet elegant element of the wedding.
When asked what was the biggest fear of the day, Lindsey responded: "People being bored and too few attending." And of course, none were the case as the bride and groom enjoyed a memorable, celebratory night in the company of many.
Lindsey and Daniel were a joy to meet, and I was honored to officiate their wedding. "I appreciate Donna's openness and friendly spirit. She was kind and positive from our very first interaction, " said Lindsey. It was my pleasure!
Details of the Day:
Wedding Planner: Sharon Bell
Photography: Katie Jewell Photography
Bouquet and Boutonniere: Dorothy McDaniels
Wedding Dress: Arzelle's in Nashville, TN
Bridesmaid Dress: J. Crew
Catering: Woodraw Hall
Hair & Makeup: Holly Craft
Baker of the beautiful cake: Linda Fritts