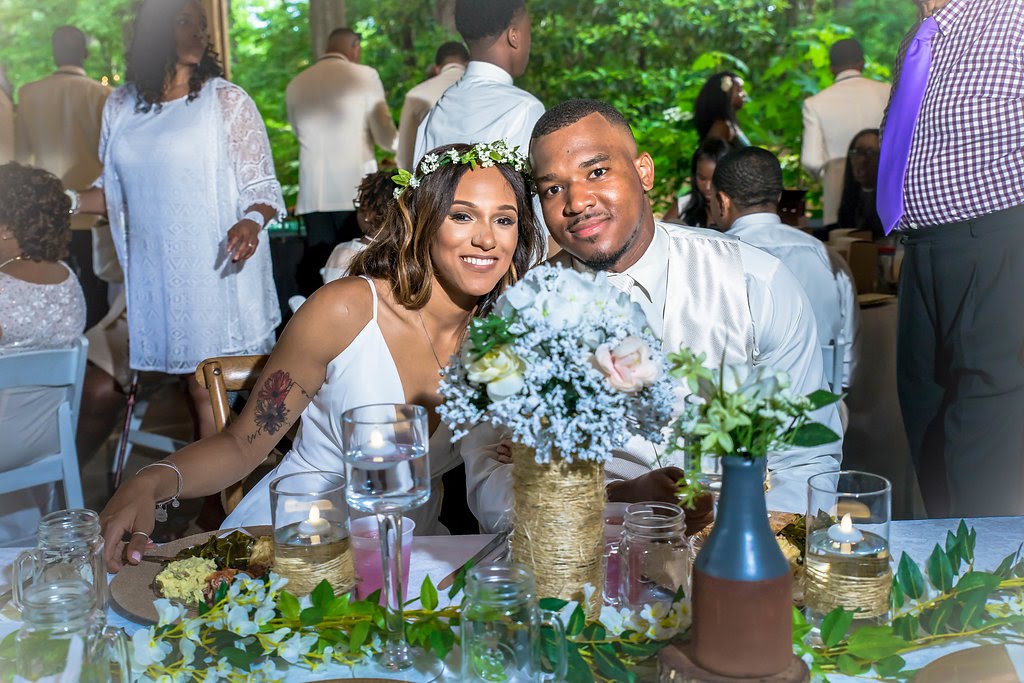 At 3:30 p.m., surrounded by lush greenery and blooming beautiful white and off-white hydrangeas, Erika Thompson prepared to join her future husband, Le'Andre Crawford, at the altar where she would share his last name for the rest of her life. Erika wore a sensual, yet elegant ivory dress for her big day, picked out at Atlas Bridal in her home state, Ohio.
Erika walked down the aisle to the song "Why I Love You" by MAJOR, and the couple had the traditional first dance to the song "Here and Now" by Luther VanDross. Following the ceremony guests enjoyed a cocktail hour in the garden, accented by floral arrangements made by Tommascena Huguley, the mother of the groom.
Jim 'N' Nicks BBQ catered the reception with chicken tenders, macaroni and cheese, greens, pulled pork, chips and salsa with queso, as well as fruit and beverages. Afterwards, Erika and Le'Andre gathered to cut the cake, which was made by a family friend, Bellcia Sutton. It was a delicious 3-tier white cake, elegantly decorated with baby's breath, and individual cupcakes. There were also white and chocolate dipped strawberries for the guests to enjoy.
Erika says that one of the funny moments of the day was that her flower girl didn't throw a single petal! "Haha, but that's okay, she was cute," she said. Aside from a shy flower girl and a fear of a rainy day, our bride tells us, "Honestly, the day was perfect and just as I imagined it. I pray every bride's day is that way."
Congratulations, Erika and Le'Andre!
Details of the day:
Hair & Makeup – Joss Pascale (Lagrange, AL)
Nails – D's Nails (Bessemer, AL)
Florist – Tommasena Huguley (Mother of the groom)
Dress – Atlas Bridal (Toledo, OH)
Wedding Planner – Kasani Bell
Photographer – Millicent Huff (M-Nichelle Photography)
Videographer – Gary Dudley (GDudvisionz)
Walked down the Isle – "Why I Love You" MAJOR
First dance – "Here and Now" Luther VanDross
Violinist – Susie Short
DJ – Chad Goodwill
Cake/Cupcakes – Belicia Sutton
Catering – Jim 'N' Nicks BBQ