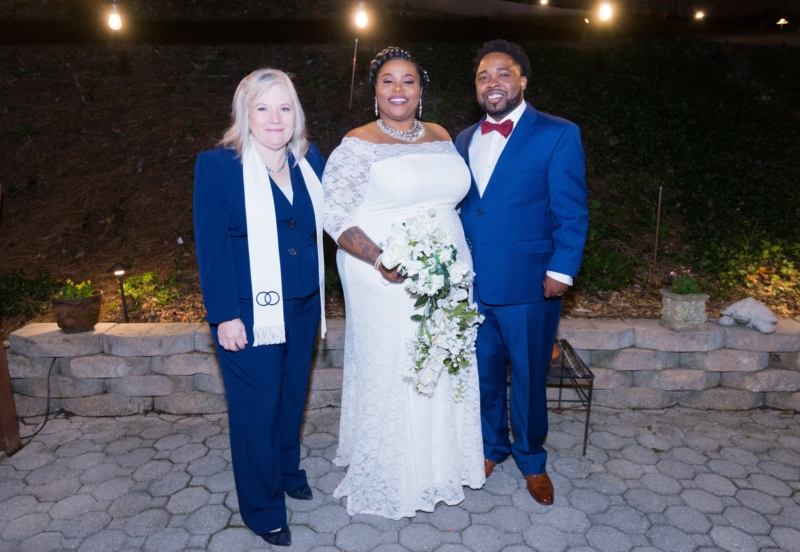 Featured Bride:  Keva Williams
Married – Darrell Williams
October 25, 2017
Meet Keva, our second featured bride with Petite Weddings. What is Petite Weddings? you may ask. It is exactly how it sounds – a small, intimate wedding where we, Sanctified Decisions and Dreamgate Events, take care of all the details, down to the minute, petite ones!
The Petite Wedding venue is located on the property of Sanctified Decision. "The venue has a lovely elevated arbor and stairway, finished with lighting and the most adorable decorative touches that you could imagine. I couldn't believe that I was having my wedding in such an exclusive place. Everyone mentioned over and over again how much they enjoyed the scenery. I would recommend it in a heartbeat," says Keva.
Keva was joined by her fiancé, of course, their two children who were the best man and bridesmaid and their family from Tennessee. "Our daughter stood next to me and our son stood next to him. We felt that it would be an awesome way to incorporate them into the ceremony. We trusted my son enough to hold the rings for us both," she says.
Keva adds, "Sanctified Decisions and Dreamgate Events handled all things, food, decor, cake, professional photographer and etc. It was a huge help to me because it allowed more time to focus on our attire and getting everyone situated for our big day. The Petite Wedding packages & Dreamgate Events was an instant lifesaver."
The music was of most importance to Keva and her fiancé because "we wanted something that represented us as a family." As her husband and son got into place "Canon in D major" played, and a piano version of "1000 Years" for their daughter and Keva to walk down the aisle to. "Voyage to Atlantis" by The Isley Brother was played for the first dance after the couple said "I do." All music was done through Sanctified Decisions Bose sound system.
As a bride planning her wedding, there are always worries or concerns. Keva mentions, "I had complete and utter faith in Donna and her team, but we'd had quite a bit of rain in the weeks leading up to the wedding. I was nervous to say the least. However, once I got a chance to visit, it was as if the rain had never come that way."
My worries were eased, and the wedding was divine. However, what is a wedding without a comical moment? "One of the funniest things I can remember from that day happened during the ceremony when Donna asked for the rings, and my son went fishing through his pockets frantically. He finally pulled them out with a sigh of relief," Keva laughs.
Keva and her husband's love was evident on their special day as they vowed to honor one another and to continue to keep their family at the center. I couldn't have been more thrilled to have been a part of binding their love and also planning the joyous occasion!
We were flattered with her closing words and hope to see them again: "Selecting Sanctified Decision's Petite Wedding Package & Dreamgate Events was probably the greatest decision I made for my wedding. I do not see how I could have done it without them. They put my mind at complete ease like the pros they are. They didn't skip a detail or miss a beat. I will definitely have them on speed dial for our renewal."
Stay tuned for our next blog on Petite Weddings.
Details of the day:
Makeup: Faith Elizabeth
Hairstylist: Jessica Renee Ruff
Nails: Sheila Smith @Chy'nails
Wedding colors: Navy Blue and Blush
Wedding Dress: Torrid (Riverchase Galleria)
Bridal Party Dress: JJHouse.com
Best Man: Suit from Tommy Hilfiger from Men's Warehouse
Bride's Shoes: Keds.com – a part of the Kate Spade line
Bouquet: Sanctified Decision